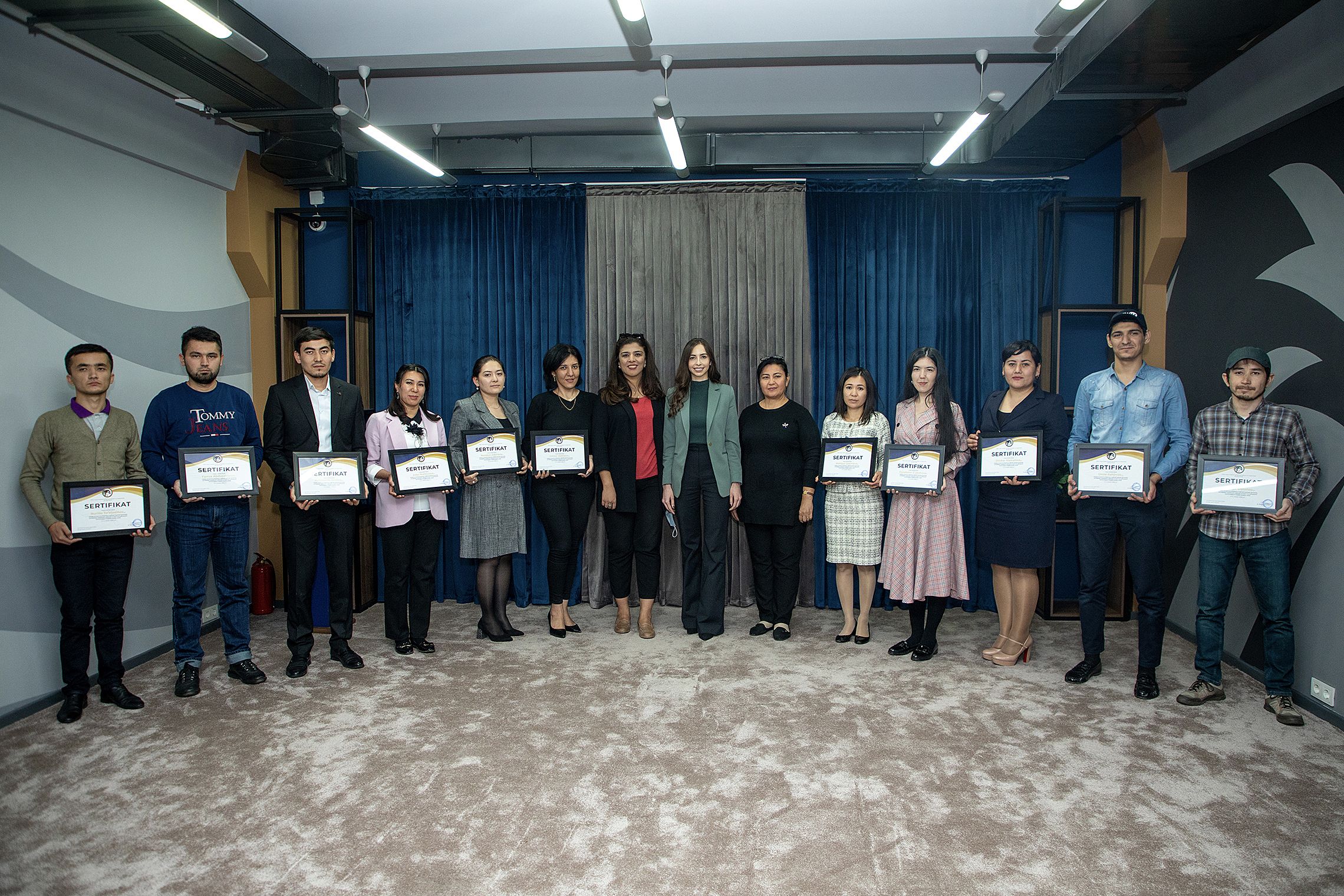 The pilot group of the journalists professional development course organized by the Media and communications school completed its training.
The curriculum for these courses has been developed by experienced trainers and professionals with extensive experience in the media and internship experience in international journalism in the United States, Switzerland, Israel, and etc.
The training module included the most relevant topics - from publicity capital to all modern types of journalism up to immersive journalism - without knowledge of which it is impossible to be competitive in the media market.
«For me personally, it was important to know what to do when the speaker does not answer your question. Now I am more prepared for such situations, - said Ziyodakhon Gulomova, a correspondent of Teznews.uz and shared her impressions about the course. During practical assignments, it became obvious that almost none of us, writing journalists, use the available tools that help to easily visualize materials. This is usually done by other employees. Now, I will make the same infographic myself».
For Nurillo Tokhtasinov, a journalist of the Xabar.uz, possibility to make easily infographics using certain mobile applications has also become a kind of discovery. Indeed, many people believe that few people know the art of conveying statistics, information, data and knowledge in the figurative language of graphics. This myth was broken during the practical training.
Dilobar Mamatova, correspondent of UzA, drew attention to the fact that, unfortunately, many journalists working in traditional media use very little of the mobile resources tools.
«Mobile journalism turned out to be not only an important topic for me in terms of professional development, but also pushed me to various ideas on how to expand my professional activity» , - she said.
The brightest moment for Zebo Namozova, a correspondent for the Ishonch, was a practical lesson on creating a mobile video and distributing it.
Many participants noted that although they have been working in the journalism for several years, their knowledge of the legislation that regulates this sphere leaves a great deal to be desired. And this was also a very important piece of information.
Concluding the results of the pilot course, Alexandra Kolesnichenko, a Director of the Mass Media Foundation said:
«Journalists professional development courses are the first step. Now preparations are underway for recruiting pilot groups for press secretaries and blogers. We hope that the project will be successful and will achieve the set goal which is increasing the professional competence of mass media employees.
Join Telegram group